Speaker : David May
---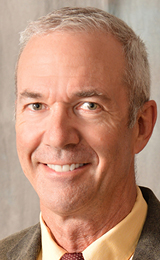 David directs the fuel operations at 53 DOT garages around the state of Iowa. Iowa is the largest biofuel producer in the United States, and has been responsible for incorporating biofuels into his fleet operations for the past 21 years. In 2017, his fleet used over 59,000 gallons of neat (pure) biodiesel. David is a National Biodiesel Board Biodiesel Ambassador and he served on the Iowa Ethanol Promotion Board.
David's educational background includes a baccalaureate in Accounting from Iowa State University and a Masters in Business Administration from Drake University. He is also a graduate of the Certified Public Manager course, the United States Command and General Staff College, and the Defense Information Public Affairs Officers Qualification Course.
David retired from the military after nearly 30 years of service. His assignments included Platoon Leader and Company Commander in a transportation truck company, and Training Officer with a petroleum transport battalion. He is a veteran of the both the Gulf War and Operation Iraqi Freedom and has a good understanding of dependence on petroleum and the freedom provided by renewable biofuels.