London ULEZ - advice for fleet operators
There are 12 months to go until London's Ultra Low Emission Zone (ULEZ) requirements apply to fleet operators.  Carlos Vicente, Retrofit Sales Director, Eminox, offers insight into what this means for fleet operators.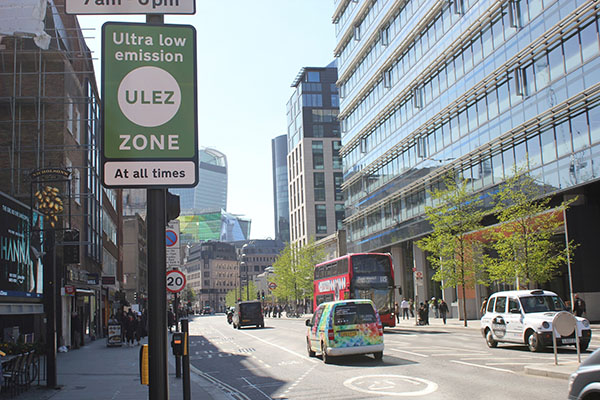 Where will the rules apply?
The new ULEZ will cover the whole of Greater London (up to the M25). This means that there is a significant expansion from the present zone.
What vehicles will it affect?
The new rules will affect bus, coach and commercial vehicles over 3.5 tonnes gross vehicle weight. They must either meet Euro VI or retrofit equivalent or pay a daily charge if they enter the expanded ULEZ.
Is it the same as the existing London Ultra Low Emission Zone?
The emission requirements are the same as the existing Ultra Low Emission Zone, which is already in place in central London. Essentially the ULEZ is being extended to cover the current LEZ area.
When do these new requirements start?
For bus, coach and commercial vehicles over 3.5 tonnes the new rules apply from 26 October 2020.
What are the emissions requirements?
The minimum standard is Euro VI for particulate matter and nitrogen oxides (NOx), or an approved retrofit equivalent that meets the real-world Euro VI standard. Therefore this means that buying new vehicles is not the only option.
How do I know which retrofits are approved?
Retrofit technologies must be approved by the Clean Vehicle Retrofit Accreditation Scheme (CVRAS). So, the vehicles have to comply with the retrofit standards set for the actual make and model. So check approvals before buying. There is a register on the CVRAS website that gives a full list of approved solutions for specific makes and models – see https://www.energysavingtrust.org.uk/transport/cvras-approved-suppliers.
What's involved in a retrofit upgrade?
The original exhaust and emissions system is removed and replaced with approved retrofit technology, which also has to be integrated with the vehicle's on-board diagnostics (OBD) systems.
How long does it take to retrofit a vehicle?
A typical retrofit upgrade takes around 50 hours per unit. For higher numbers of vehicles, fitting teams with more staff can be used to complete a vehicle upgrade per day.
Is this the same retrofit technology as used for previous phases of London LEZ?
No, the technology required is very different and more complex. Previous phases required a simple diesel particulate filter (DPF)/CRT with no electronic integration. The ULEZ compliant SCRT technology incorporates a DPF along with SCR catalysts, AdBlue dosing and sophisticated automatic control integrated with the vehicles onboard diagnostics system.
How do I maintain this retrofit technology?
The Eminox system provides real-world real-time data on system performance and maintenance alerts, providing all the information the operator needs to ensure continued compliance. Eminox is a UK company with a dedicated service and support centre offering a range of maintenance packages, all designed to keep vehicles operating at peak efficiency.
How much will a retrofit upgrade cost?
It can cost between £15-20,000 per truck. Part of the cost is for the system development and approval, so volume makes a difference – generally, the more regular the vehicle, the lower the price will be.
Will retrofit solutions be available for all vehicles?
No, the costs for development and achieving approval are much higher than for previous LEZ phases, so it is just not economical to develop solutions for everything.
How do I know if there is a retrofit upgrade path for my vehicles?
Some companies, including Eminox, are sharing their development programme to help with this. It is worth checking with approved retrofit suppliers to see if the vehicle could be included in their development programme.
What if there are no retrofits available for my vehicle?
There will be trucks where no retrofit solution will be available. But buying a new vehicle is still not the only option. While a second-hand Euro VI vehicle could be expensive, a Euro V plus retrofit upgrade might well be a lower-cost option.
When should I upgrade my vehicle?
Operators should start looking at their options now, to work out the cost for their fleet. The fleet manager should plan how to finance the upgrade programme and how to ensure vehicle availability. It is worth remembering that many other operators are in the same situation, so the demand for retrofit upgrades and vehicles will be high. To provide an idea of scale, Eminox upgraded more than 10,000 trucks for previous Low Emission Zones – and the expanded ULEZ comes into force in less than a year.